---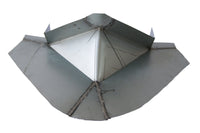 Product Overview:
Flashing Kings Chimney Cricket Flashings provide maximum protection from water damage at chimney roof penetrations. Diverting water around the chimney with heavy duty, professional grade G-90 galvanized steel and 100% soldered seams, our cricket flashings are built to last. Flashing is made for a 30" wide chimney and roof pitch 3/12-6/12. Can also be used to flash curbs, platforms, walls, or any other projection through the roof.
5" vertical collar
6" returns
G- 90 galvanized steel (26 Gauge)
Fully soldered seams
Specifications:
Width: 30.25"
Ridge / Spine: 15"
Legs: 16"
Valleys: 22"
Vertical Collar: 5"
Returns: 6"
Roof Flange: 8-12"
Trade Names: Chimney Saddle, Chimney Apron, Chimney Flashing Kit, Roof Saddle