---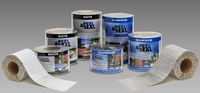 Peel & Seal® is the original, self-stick roll roofing specifically designed for low slope residential and commercial applications. Composed of an exclusive formula (consisting of laminated aluminized foil, high-density polymer films and a thick layer of rubberized asphalt), Peel & Seal® provides a long-lasting, durable, maintenance-free roofing surface. 
From dormers, residential sunroom additions, "open" porches, and mobile home roofs, to industrial and agricultural buildings where low slope roofs are common place, Peel & Seal® is an excellent solution for these applications. The self-adhering, weatherproof, reflective surface not only forms a highly effective barrier to the elements, but also limits solar heating to help keep the temperature of building interiors significantly cooler.
PEEL & SEAL® FEATURES
Single-ply, direct-to-deck installation

No torches, mops, glues or fasteners required

Designed to be left exposed indefinitely to the elements

Maintenance-free, tough, durable aluminum surface

Adhesive system will not crack or dry-out

Surface reflects heat keeping internal temperatures cooler

Available in four color options and seven width sizes
PEEL & SEAL® APPROVALS
ASTM D 1970

ICC-ES ESR 1654

Florida Building Code FL# 11842.2, 13025.1, 13025.2

Miami-Dade County Approved

UL® Classified Prepared Roofing Accessory

Texas Department of Insurance Accepted RC38
Peel & Seal® is compatible with EPDM roofing systems by utilizing an MFM-approved EPDM primer. 
Peel & Seal® is perfect for hundreds of uses ranging from full-roof applications to patching gutters and vent pipes. Fully pliable and providing a secure seal at edges, corners and over gaps, it is ideal for roof areas that are often difficult to waterproof, including locations where ducts, vents, chimneys, or air conditioning units either protrude through, or are roof mounted.
Peel & Seal® – the original, maintenance-free, energy efficient, economical, self-sealing roll roofing you can count on for any low slope/low pitch application.