---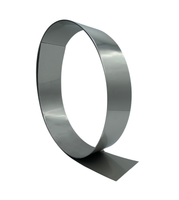 Flashing Kings Is pleased to provide 304 stainless steel sheet in 26 gauge with a 2B finish. This material is much easier to work and cut than 24 gauge, and has a more muted sheen than brushed stainless. It is corrosion resistant making it popular for many indoor an outdoor applications - for use as exposed roof flashing, concrete barriers, backsplash in kitchen & bath, commercial use such as restaurant and bathroom, decorative application, Arts & Crafts, DIY, as well as industrial "clean" applications. We are offering this material in 10 foot lengths and many popular widths.
*For custom shearing, fabrication, or bulk orders please reach out via the contact tab.
*Note: 26 gauge 2B finish stainless steel is not being offered with a protective film. This material will arrive bare on both sides (expect minor markings from processing the material). Please also keep in mind that 304 grade stainless steel is not magnetic.