---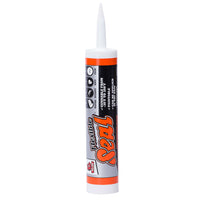 Epmar Tuff Dog Flexible Seal available from flashingkings.com:
A long-lasting, primerless, paintable, Kraton G® block copolymer based, elastomeric sealant. When used as directed, the material will seal joints or cracks to resist the passage of light, heat, cold, air, snow, wind, odor, dust and chemical contaminants. Material has a 30 year life expectancy.
Highly recommended for commercial or residential buildings and their roofs, walls, and window openings. The product adheres to brick, glass, wood, copper, concrete, fiberglass, steel, aluminum, and most plastics, in wet or dry conditions.
The elastomeric characteristic allows the sealant to expand and contract in the heat of day to the coolness of night, where temperatures may vary 70oF in a matter of hours.
Service Range - 30ºF to 200ºF
10.6 oz. cartridges in Clear,
Resists rain immediately providing instant above ground waterproofing.
Solvent based single component, primerless, paintable modified Kraton® G elastomeric mastic coating to be applied by caulking gun.
Flexible Seal is a high-grade high performance, above grade material used for narrow cracks, small holes, and seams on steel, glass, aluminum, concrete, wood brick, clay and tile substrates.
Tack free in 30-60 minutes.
Paintable after 24 hours with latex paint, oil-based paint may be applied after 1 week.
Sticks to wet surfaces – can be applied in the rain!
For shake, concrete, tile, asphalt & fiberglass roofs & more.
UV Resistant mildew & fungus resistant.
Use on flashing, skylights, HVAC, masonry
Elastomeric for a weatherproof long lasting repair
Resticks and paintable.
Excellent adhesion over "other failed" roofing products.
Use Flexible Seal in place of "wet patch cement."