---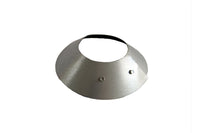 Product Overview
The Flashing Kings Storm Collar flashings are simple yet effective. Designed to be highly adjustable and easy to install, our storm collars are an essential waterproofing component when penetrating the roof deck. Most common applications include flashing pipes to roof jacks, B-vents, and for use as varmint shields. These vent pipes generally originate from kitchen and bathroom ventilation systems, furnaces, boilers, fireplaces, ranges, or water heaters.
2.25" width for maximum coverage
Professional Grade Galvanized Steel
Specifications:
Inside diameter: 5.25" (inside diameter is 2.25" larger than pipe diameter allowing slope to form when flashing is drawn tight around pipe.)
Outside diameter: 9.25"
Trade Names: Rain Collar, Flash Cone, Flue Collar, Chimney Collar, Pipe Ring 
Installation Instructions:
First, position storm collar around the pipe penetration just above the roof flashing by utilizing the split section in storm collar. Draw the flashing as tight as possible, creating an overlap at split section of storm collar, this action should also create a slope moving water away from pipe. Use locking pliers to secure tightened collar, proceed to install one or two fasteners at overlap, ensuring the storm collar will hold its form. Finally, spread a thin bead of approved sealant at intersection of pipe and collar. To install Flashing Kings' storm collars, you will need locking pliers, fasteners, and sealant. All sold separately.